JCN News Wire
2019-07-01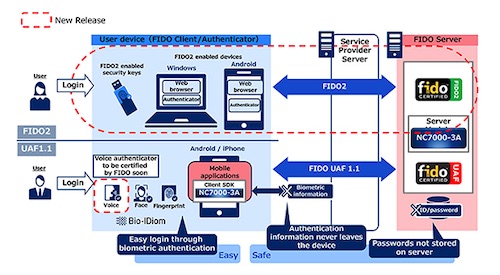 Updated server software and SDK from NEC
TOKYO, Jul 1, 2019 – (JCN Newswire) – NEC Corporation today announced the availability of its enhanced NC7000-3A server software, which will allow simple, secure and fast user authentication for accessing websites and mobile applications via biometric authentication.
In addition, NEC also releases SDK-based voice authentication that accurately identifies users by extracting the unique characteristics of their voices when speaking predetermined sentences. The FIDO2 (1) compliant server software and updated SDKs are expected to be available in July and August 2019 respectively.
The NC7000-3A integrates with enterprise / service provider user profiles and manages authentication activities for web services. This software is a FIDO certified product that allows users to authenticate without sending biometric or other personal information outside of a terminal, reducing the risk of compromising biometric identities and passwords.
As a result of this update, the NC7000-3A server software is now certified with the FIDO2 standards established by the FIDO Alliance (2), which promotes international standards for "password-less" online user verification.
The existing NC7000-3A server software is FIDO UAF certified, which allows users to log in with biometric authentication when using mobile applications, such as online banking. This latest update also supports FIDO2, which allows PC and smartphone users to also use biometric authentication when logging into websites. The FIDO2 capability allows connection using external authentication devices, such as security keys, via USB / NFC / Bluetooth communication standards.
Additionally, SDKs supporting various authentication options including fingerprint, face and voice recognition are available for Android OS and iOS, allowing customers to freely select and combine multimodal authentication.
This server software and SDK will improve login convenience and prevent identity theft, which will contribute to the security of web services requiring identity authentication. Specifically, it will enable passwordless authentication for e-commerce, digital banking and web services provided by municipalities and government agencies.
As part of NEC's "Medium Term Management Plan 2020", the company is actively promoting services in new areas that build on the strengths of the network. With this software, NEC flexibly leverages its networks to accelerate the delivery of NEC Smart Connectivity (3), which connects data generated by people and industry to create new social value.
"The NC7000 Series is at the heart of the NEC Smart Connectivity program and has a strong history of installations for financial institutions and telecommunications operators," said Takashi Sato, Managing Director, Digital Services Solutions Division, NEC Corporation. . "This enhancement reinforces the role of Bio-IDiom (4), NEC's portfolio of biometric solutions, in providing highly secure and convenient user certification, which supports the achievement of a society where people, property and the services are reliably linked.
Andrew Shikiar, Executive Director and Chief Marketing Officer, FIDO Alliance, added: "NEC's continued efforts as a sponsoring member of the FIDO Alliance are helping to promote the evolution and globalization of simpler and better FIDO authentication. strong. We are delighted to see NEC present its FIDO2 certified server. today as part of a strong and continuously growing ecosystem aimed at reducing the world's dependence on passwords. "
"I am very happy to see NEC achieve FIDO2 certification and to strengthen its position as a member of the FIDO Alliance, whose goal is to supplant dependence on passwords," said Koichi Moriyama, Board member. Executive of the FIDO Alliance, Chairman of the Japan Working Group, Senior Director of Product Innovation, Product Department, NTT DOCOMO, INC. "As one of Japan's leading ICT companies, we look forward to working together to accelerate efforts to create a world without passwords through the deployment of FIDO certified products. "
(1) https://fidoalliance.org/fido2/
(2) https://www.fidoalliance.org
(3) This is a collective term for network services that leverage NEC's expertise and experience in network technologies and related solutions. We will use 5G and LPWA to create a new data distribution that connects previously untapped data in various fields, such as social infrastructure, manufacturing and retail, and delivers it to the people and goods they need. .
(4) "Bio-IDiom" is NEC's portfolio of biometric identification solutions, comprising acoustic solutions for the face, iris, fingerprints, palm, finger veins, voice and ears.
https://www.nec.com/en/global/solutions/biometrics/index.html
About NEC Corporation
NEC Corporation is a leader in integrating computer and network technologies that benefit businesses and people around the world. The NEC Group provides "Solutions for Society" globally that promote safety, efficiency and fairness in society. As part of the company's corporate message "Orchestrating a Brighter World", NEC aims to help solve a wide range of difficult problems and create new social value for the changing world of tomorrow. For more information, visit NEC at https://www.nec.com.
Contact:
NEC
Seiichiro Toda        
[email protected]
+81-3-3798-6511
Copyright 2019 JCN Newswire. All rights reserved. www.jcnnewswire.com